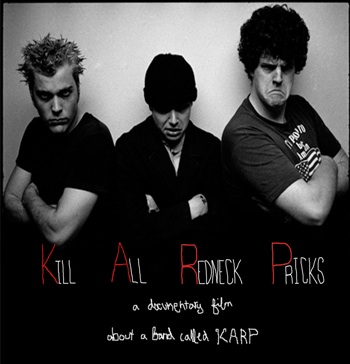 K.A.R.P. was a heavy rock band from Tumwater, WA (outside Olympia) on K Records during the 1990s and KARP LIVES! is a documentary about them, hence the longer title: Kill All Redneck Pricks: A Documentary About A Band Called KARP. Jarred Warren of Karp went on to play in  Tight Bros From Way Back When, Big Business and the Melvins. The film will be shown for FREE at Bryan St. Tavern on Sunday, November 20th, 2011 at 8PM. Donations will be appreciated and go direct to film.
Filmmaker, Bill Badgley will be in attendance and do a Q and A as well. After the screening Arlington's  Big Fiction will play.
Parade of Flesh presents . . .
Sunday, November 20th, 2011 – 8PM
KARP LIVES!: Documentary Screening w/ Q & A
Big Fiction
@ Bryan St. Tavern
4315 Bryan Street
Dallas, TX
Ages 18+
Free Screening, Donations appreciated.
*Thanks Dreyfus for helping set this up.