An almost weekly assortment of musical oddities purchased by or given to POF.
JOHN CARPENTER – Seasons 7" (mexican summer) – 500 pressed/Hand-numbered. Two piece influenced by Echo & the Bunnymen – self-described as Goth-Soul psychedelic Chamber-pop.
CAMPFIRES – Stormy Late Fall 7" (mexican summer) – 500 pressed/hand-numbered. There's nothing special about Kemado Records' boutique label Mexican Summer, anymore, except the low-run; otherwise they've seemed to abandon all the unusual colored vinyl they were pressing upon their inception in 2008.
COALESCE – OX Ep (relapse) – After seeing the OX Ep appear on numerous "best of 2009" lists, I decided to cave and buy it. Granted it is metal/hardcore, but the first track sounds a whole lot like HEALTH, until the second track blasts in, you are rudely reminded that it isn't them.
The FRESH & ONLYS – Laughter is Contagious 7" (trouble in mind) – Third release from Chicago record label, Trouble In Mind, showcases two tracks from, San Francisco's The Fresh & Onlys. "Laughter Is Contagious" and "Horrible Door". Comes with digital download. Supposedly touring with King Khan & the Shrines and/or Woven Bones later this year.
FUNGI GIRLS – Seafaring Pyramids LP (play pinball!) – Wish my students rocked like this! yep, 14 year old kids made this deservedly well hyped underground garage rock record. LP limited to 520 Copies. 400 black vinyl, 50 fungi green vinyl, 50 gold vinyl, and 20 Denton/Austin-only purple.
JEFF the BROTHERHOOD – Heavy Days lp (inifinity cat) – Recently released, catchy garage pop record out of Nashville is already in its second pressing. First pressing was 100 yellow (part of 200 colored? Not sure). Currently on tour with Screaming Females, which makes a stop next month in Dallas, February 15th at the Lounge on Elm with Teenage Cool Kids opening.
NAAM – Naam (tee pee) – Trippy psychedelic metal that's not too heavy or sluggish; fairly mysterious and spacious overall. Definitely an album you listen to in its entirety to grasp the proper gist. Playing Bro Fest 2010.
The PLOT To BLOW UP The EIFFEL TOWER – Inri EP (art fag) – I found this the other day and it's been a while since I've listened to them, so I had to get it. They were on a package bill for one of the earliest shows I ever booked; where a friend and I had Plot, Some Girls & 400 Blows play at Red Blood Club back in 2005.
SONIC CHICKEN 4 – Turf On A Plane 7" (trouble in mind) Hand-stamped/numbered out of 500; comes with digital download.
TRASH TALK – Shame 12" (trash talk collective) – Self-released anthology is now available for pre-order through trashtalkhc.com. Shame brings together Trash Talk's catalog thus far: Walking Disease, Plagues, S/T and East of Eden. A total of 30 tracks on 180g vinyl.
WITHERED – Folie Circulaire (prosthetic) – Underground black doom metal, playing BRO FEST 2010. Folie Circulaire translates into English as "circular madness". Relentless death metal that incorporates melodic doom intensified with hardcore grind. Band features members from Social Infestation and Leechmilk. They close out the album with a cover of "Into Armageddon", originally performed by Swedish death metal group Nercrophobic.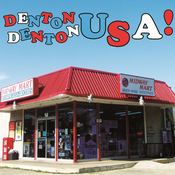 V/A – DENTON DENTON USA! 12" (play pinball!) – 15 track compilation of local bands that are 'hot' right now and a few defunct ones, all from Denton, TX. Features active groups Bad Sports, Fergus & Geronimo, The Uptown Bums, Video and Teenage Cool Kids. 500 pressed (100 on "Lone Star State" blue & 400 on black)