Here is the info on this week's shows: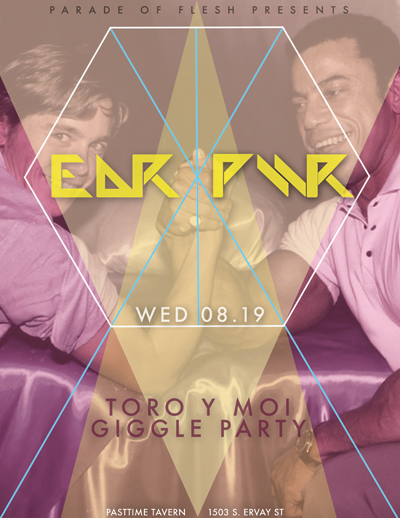 Wednesday, August 19th, 2009 8:00pm
EAR PWR – spastic/hyper electronic freak out (think poor version of YACTH on meth)
TORO Y MOI – Solo electronic dreamwave? from Columbia, SC.
GIGGLE PARTY – Dallas party band.
@ Pastime Tavern
1503 S. Ervay St
Dallas, TX 75235
$6, all ages
EAR PWR is returning to town in August to promote their album Super Animal Brothers III (carpark). On tour with Ear Pwr will be TORO Y MOI, which is a recent addition to the Carpark roster (i think…). Toro y Moi was mentioned on Gorilla Vs. Bear and people fall for that sort of hype, so…HERE. To start off the show will be Dallas' GIGGLE PARTY.
—————————————————-
Thursday, AUG 20th, 2009 8:00pm
EL PASO HOT BUTTON CD Release party with:
PVC Street Gang – Dentron rock trio debut ep available now.
Gentle Ghost
@ The Cavern
1914 Greenville Ave
Dallas
$7 for 21+.
El Paso Hot Button's newest album will be titled Keep Your Eyes Quiet (little mafia). Gentle Ghost features members of the band Umbrellas.