SPILLOVER 2013

Parade of Flesh's sixth-annual spring-time spillover event, formerly known as Bro Fest, will now be called SPILLOVER (makes sense, right?). We are expanding to a new venue in 2013, and we have more to announce in the next few weeks.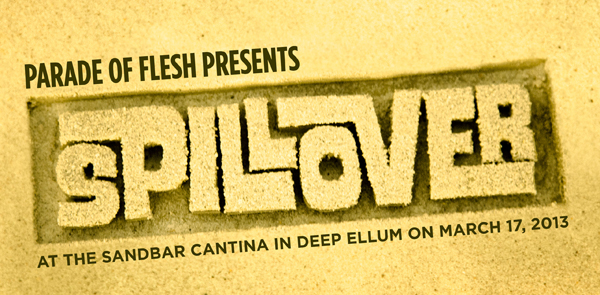 Bands confirmed for SPILLOVER 2013:
BLACK TUSK (Savannah, GA)
BRONCHO (Oklahoma City)
?????????? (Mystery Guest)
JAILL (Milwaukee)
MONDO GENERATOR (Nick Oliveri of Dwarves/Queens of the Stone Age)
NOBUNNY (Oakland, feat. mem. of Bad Sports)
The ORWELLS (Chicago)
SINGLE MOTHERS (London, Ontario)
VIETNAM (New York City – reunion!)
WHITE MYSTERY (Chicago)
WIDOWSPEAK (Brooklyn)
ZECHS MARQUISE (El Paso)
More to be added soon, including a couple of our favorite bands from years prior.
Date: March 17th, 2013
Location: SANDBAR CANTINA – 317 S. 2nd Ave, Dallas, TX 75226, at the corner of Second Ave and Canton in Deep Ellum.
Advance tickets only $15.91, purchase at ticketfly ($19.99 incl. taxes and cc fees)
All Ages!
Day of Show tickets tba
History:
Bro Fest 2012 – OFF!, Crocodiles, Maps & Atlases, Titus Andronicus, White Mystery, Prince Rama, Sleepy Sun, Bass Drum of Death, Crystal Antlers, The Coathangers, The Growlers, Coliseum, Hospitality, The Men, Narrows, Gauntlet Hair, All Pigs Must Die, And So I watch you from Afar (belfast), Balaclava, Code Orange Kids, Full of Hell, Primitive Weapons, Big Fiction, Leg Sweeper, Lonesome Ghost, Nervous Curtains, Sealion, Wild//Tribe.
Bro Fest 2011: The Greenhornes, Wild Flag, Jeff the Brotherhood, Fang Island, Class Actress, DOM, Small Black, White Hills, Castanets, Grooms, 400 Blows, Deafheaven, Horse the Band, Touche Amore, The Secret, The Funeral Pyre, Liturgy, Owen Hart, Native, The Body.
Bro Fest 2010: The Soft Pack, Sleepy Sun, Dum Dum Girls, Those Darlins, Frankie Rose & The Outs, Woven Bones, ASG, Withered, Rwake, US Christmas, White Mice, Liturgy, Naam, Slang Chickens, Sisters, Tinsel Teeth
South by South Flesh: Young Widows, Thee Oh Sees, My Disco, Women, The Coathangers, Abe Vigoda, Pterodactyl, Vampire Hands, Sleepy Sun, The Fresh & Onlys, Howl and Juarez.
2008: Parts & Labor, Torche, Pterodactyl and Shooting Spires.