January is practically all metal, honoring the gloomy spirit of winter.
Starting off the new year in a new space. Since I am always interested in moving shows around, please be sure to check out the new DIY/Gallery space, QUEEN CITY HALL (adjacent to Queen City Tattoos) which is letting us host this four-band epic crust-metal bill there at the very beginning of January 2012.
Parade of Flesh & Tofu Carnage Records presents . . .
Wednesday, January 4th, 2012 – 7pm
DOWNFALL OF GAIA (Hamberg, GER)
VESTIGES (Olympia, WA)
Dead To A Dying World
Baring Teeth
@ QUEEN CITY HALL
115 N. Carroll Ave, (park on Elm St.)
(East) Dallas, TX
$7 day of show only, ALL AGES
This is super far away, but who cares it will be memorable. An early evening winter-time show with New Orleans' THOU and Providence's The BODY in the BOWLING ALLEY of Sons of Hermann Hall. This will be their final night on tour together. THOU came through at Good Records earlier this year and The BODY played Bro Fest 2011 and at Bryan St. Tavern in September with Braveyoung and Cough.
Parade of Flesh presents . . .
Monday, January 23rd, 2012 – 7PM (over by 11PM)
THOU
The BODY
TRUE WIDOW
@ the Bowling Alley of Sons of Hermann Hall
3414 Elm St.
Dallas, TX
All Ages
$8 advance, $10 day of show
On Sale Now.
Facebook event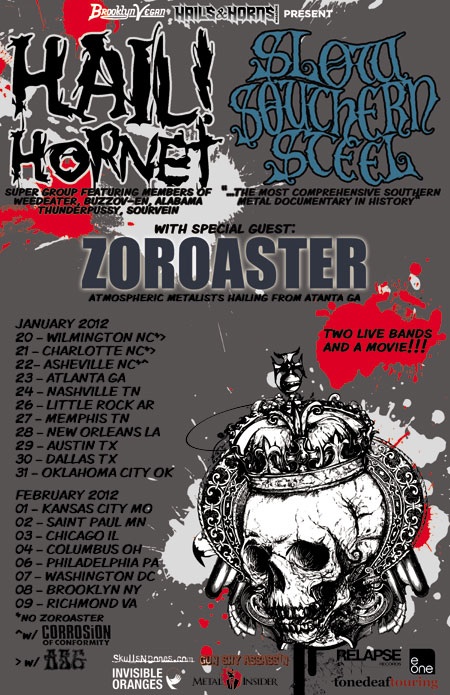 Atlanta doom metal trio ZOROASTER (E1 records) are touring with sludge/doommetal supergroup HAIL!HORNET (relapse) and bringing along with them the acclaimed documentary SLOW SOUTHERN STEEL. SSS was directed by CT of Rwake. If you grew up or live in the South and listen to metal, then you NEED to see this film.
Parade of Flesh presents . . .
Monday, January 30th, 2012 – 7pm
11pm – HAIL!HORNET (relapse) – members of Buzzov*en, Weedeater, Alabama Thunderpussy and Sourvein.
10pm – ZOROASTER (e1)
8pm to 9:30pm – SLOW SOUTHERN STEEL (film screening)
@ La Grange
2704 Elm Street
Dallas
All Ages
$9 advance tickets / $12 day of show
on sale through Frontgate.
Note: "Hail!Hornet's members include "Dixie" Dave Collins (bass, also from Buzzov•en, Weedeater), Erik Larson (drums, also from Parasytic, The Might Could, Alabama Thunderpussy), Vince Burke (guitars, also from Beaten Back to Pure, Lunch, The Misanthrope Project), and T-roy (vocals, also from Sourvein, Buzzov•en)." – relapse bio.