Go HERE for the continually updated BRO FEST 2012 page.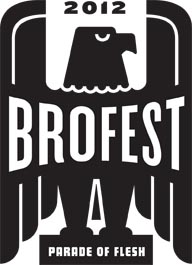 Parade of Flesh's BRO FEST 2012 is celebrating it's 5th year of bringing established and emerging indie, electronic, garage and metal acts to Dallas on the Sunday after SXSW. This year will be another all ages, one-day / two-stage showcase of awesomeness at Club Dada in Dallas, TX on Sunday March 18th, 2012. In this intimate 'club-style' concert/event/festival/whatever you want to call it, patrons will be able to experience a little bit of what they are missing in Austin.
BRO FEST 2012 featuring TWENTY? bands. Artists will be announced in the coming weeks.
When: Sunday, March 18th, 2012 at Noon
Where: Club Dada – 2720 Elm St. – Dallas
Cost: advance tickets ONLY $17 and on sale starting December 6th, 2011 at Frontgate Tickets
Ages: All Ages
Food: We will have a selection of various food trucks to feed you.
More: more info in the coming weeks.
Year Five:  BRO FEST 2012: ???? who do you want to see ????
HISTORY:
BRO FEST 2011: The Greenhornes, Wild Flag, Jeff the Brotherhood, Fang Island, Class Actress, DOM, Small Black, White Hills, Castanets, Grooms, 400 Blows, Deafheaven, Horse the Band, Touche Amore, The Secret, The Funeral Pyre, Liturgy, Owen Hart, Native, The Body. (Alpha & Omega and Holy Sons unable to play).
BRO FEST 2010: The Soft Pack, Sleepy Sun, Dum Dum Girls, Those Darlins, Frankie Rose & The Outs, Woven Bones, ASG, Withered, Rwake, US Christmas, White Mice, Liturgy, Naam, Slang Chickens, Sisters, Tinsel Teeth
2009 as South by South Flesh: Young Widows, Thee Oh Sees, My Disco, Women, The Coathangers, Abe Vigoda, Pterodactyl, Vampire Hands, Sleepy Sun, The Fresh & Onlys, Howl and Juarez. (Trash Talk & Wavves unable to play)
2008: Parts & Labor, Torche, Pterodactyl and Shooting Spires.