SUPER BUSY WEEK AT THE Nightmare this week… then two shows at Cavern next week!
FREE POSTER WITH PAID ADMISSION.
Psychedelic blues rock by Radio Moscow and Black Tusk with their 'swamp metal' will be on tour together. I had Black Tusk play at Trees earlier this year; on the road to promote Taste The Sin (relapse). Radio Moscow have an upcoming split with Earthless via Volcom Ent.
Tuesday, September 21st, 2010 8pm
11pm Black Tusk
10pm Radio Moscow
9pm The Phuss
at The Nightmare
2810 Elm St
$10 adv. $12 dos
All Ages. ON SALE HERE
———————————
Wednesday, September 22nd, 2010 – 8pm
11pmFILM SCHOOL – San Francisco, indie-rock, shoegaze quartet
10pmTV TORSO– Austin
9pm Manned Missiles
at The Nightmare
2810 Elm Street
All Ages show, $10 adv, $12 dos ON SALE HERE
———————————–
Thursday, September 23rd, 2010 – 8pm
11TORCHE
10 The House Harkonnen
9 White Mountain
at The Nightmare
2810 Elm Street
All Ages show, $8adv, $10 dos ON SALE HERE
This will be my 3rd time to host TORCHE. Once at Doublewide after SXSW in 2006? and then once with Black Cobra & Clouds at the Lounge. They are touring in support of Songs of ???? (hydra head)
———————-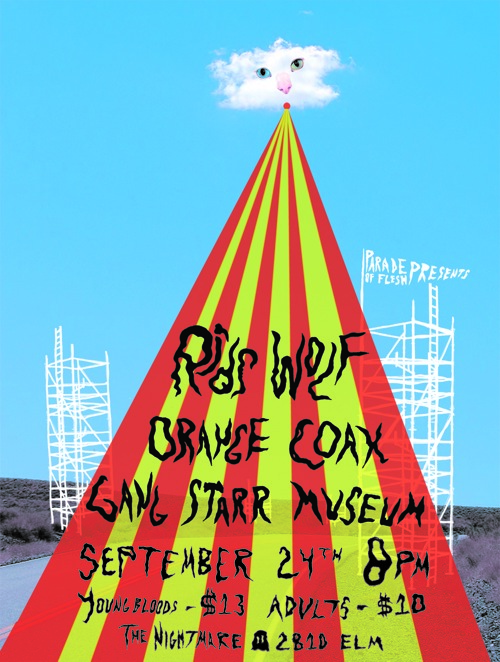 Friday, September 24th, 2010 – 8PM
11:30pm AIDS WOLF (Montreal, Seripop) – now a trio
11pm Orange Coax
10:20 Gang Starr Museum
9:30 The PeopleMen
at The Nightmare
2810 Elm Street
All Ages show, $10 for 21+, $13 for under ON SALE HERE
AIDS WOLF – Sept 24th at The Nightmare – Well established art-noise punk outfit have come through on many occasions over the past few years. FYI, they are now a trio. Once, I hosted them at The Public Trust in 2007, then again at Club Dada in 08 with Teenage Cool Kids & Orange Coax.  . MS
————————————
Saturday, September 25th, 2010 – 9PM
11:30 JEFF The BROTHERHOOD
10:30 Leg Sweeper
9:30 hormones
at The Nightmare
2810 Elm Street
All Ages show, $8 for 21+, $10 for under ON SALE HERE