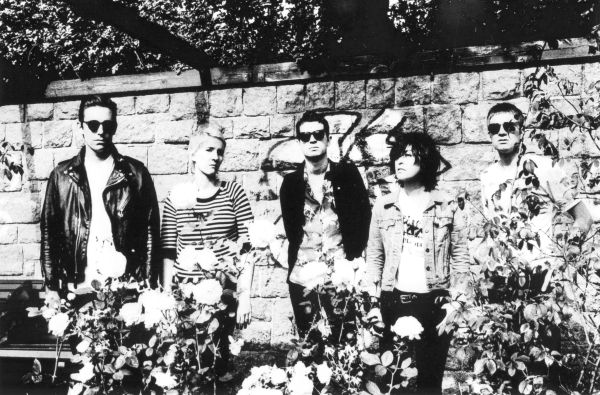 Currently on Frenchkiss, and just recently released Endless Flowers, we have the return of CROCODILES in October!
Parade of Flesh presents . . .
Saturday, October 27th, 2012 – 8:30PM
CROCODILES (Frenchkiss)
@ Club Dada
2720 Elm St
$11 advance, $14 day of show
On sale through ticketfly on 8/01
ALL AGES
Facebook event
While following in the footsteps of the raw, anthemic psychedelia of 2010's Sleep Forever and the "repeat-ready…art-punk renaissance" (Rolling Stone) of their 2009 debut Summer of Hate, the songs on Endless Flowers add a refined cohesion and unmistakable sunnyness to Crocodiles' glorious, noise and echo-cloaked pop. The title track opener is four and a half minutes of soaring, alarm-ringing guitars, while "Sunday (Psychic Conversation #9)" comes next with a resounding, punk-inflected charge.  The 7-plus minute "My Surfing Lucifer" begins with two minutes of grimy, hissed spoken word before ascending to glammy, distorted heights; the bass-heavy and buzzing "Dark Alleys" is a motorik march; and the swirling "Bubblegum Trash" has a sweet, dirty charm. Nearly all are single-worthy, and are embellished with singer/guitarist Brandon Welchez's newly forward-mixed croon.
Crocodiles have evolved from their 2008 genesis as the core duo of Welchez and guitarist Charles Rowell into today's five-piece, which includes keyboardist Robin Eisenberg, bassist Marco Gonzalez, and drummer Anna Schulte.  Last summer, the band headed to Berlin to rehearse and record Endless Flowers, which Welchez and Rowell had written last winter.
Crocodiles are: Brandon Welchez (vocals, guitar), Charles Rowell (guitar), Marco Gonzalez (bass), Anna Schulte (drums), and Robin Eisenberg (keyboards).