——————————–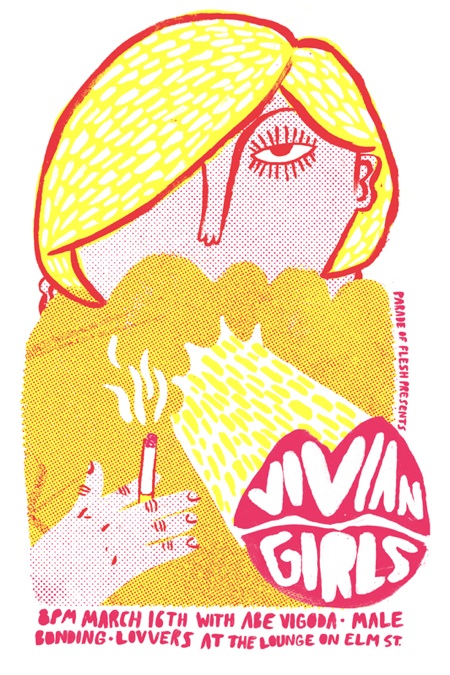 Tuesday, March 16th, 2010 – 8PM
VIVIAN GIRLS (NYC – in the red)
ABE VIGODA (LA – post present medium)
MALE BONDING (UK – sub pop)
LOVVERS – (UK – wichita)
@ Lounge on Elm St
2810 Elm St
Dallas
$10 for 21+, $12 for under
On sale now
I had Vivian Girls come through last fall and Abe Vigoda last summer. Should be really good warm-up before you head to SXSW or even if you are just staying in town that week.
——————————-
In honor of our Split 10? release of Juarez (Tuscon, AZ) & Junius (Boston, MA);
US Two Records & Parade of Flesh present:
Thursday, March 18th, 2010 – 8PM
Maleveller – Dallas hesher metal
JUAREZ – heavy melodic instrumental metal from Tuscon
The CLOUD BURIAL – Chicago – feat. mem. of Minsk
Akkolyte – two piece grindcore brothers
at The Cavern
1914 Greenville Ave
Dallas, TX
$7, 21+ only.
——————————–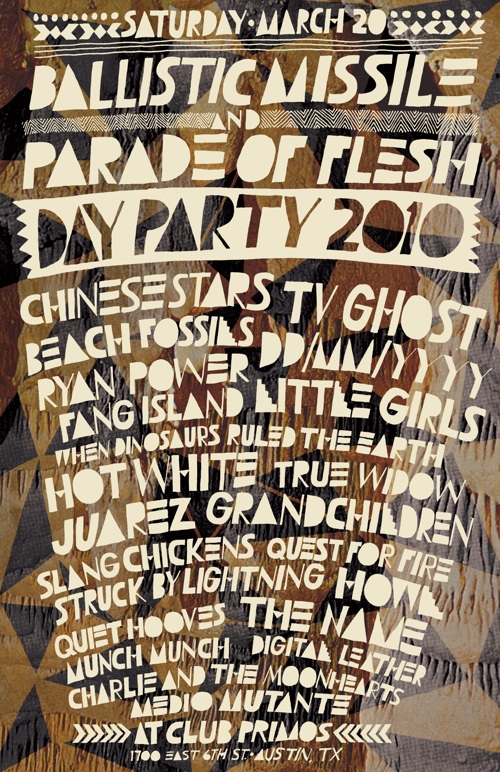 Saturday, March 20th, 2010 -1PM – AUSTIN
Ballistic Missile & Parade of Flesh FREE ALL-AGES Party:
Saturday, March 20, 2010 at 12:00pm
@ Club Primos
1700 East 6th Street
Austin, TX
First Band at 1pm. Last band at 11:30pm
LINE-UP/SET-TIMES: (two stages)
1pm – Slang Chickens (Los Angeles – psychedelic Judaism)
1:30- Munch Munch (Bristol, UK – tomlab)
2pm – Juarez (Tucson – us two)
2:30- Ryan Power (Burlington, VT)
3pm – True Widow (Dallas – end sounds)
3:30- The Name (São Paulo Brazil)
4pm – Little Girls (Toronto – captured tracks/mexican summer)
4:30- Grandchildren (Philly – green owl)
5pm – Beach Fossils (Brklyn -captured tracks)
5:30- When Dinosaurs Ruled The Earth (Austin – Us Two/various)
6pm – Digital Leather (Omaha – fat possum/various)
6:30- DD/MM/YYYY (Toronto – we are busy bodies/deleted art)
7pm – Charlie & the Moonhearts (LA & San Fran – telephone explosion/various)
7:30- Hot White (Denver)
8pm – TV Ghost (Lafayette – in the red)
8:30- Chinese Stars (Providence – anchor brain)
9pm – HOWL (Providence – relapse)
9:30- Fang Island (Providence – sargent house)
10pm – Struck By Lightning (Columbus – translation loss)
10:30- Medio Mutante (Brklyn/LA – cititrax)
11pm – Quest for Fire (Toronto – tee pee)
11:30- Quiet Hooves (Athens – party party partners)
—————————–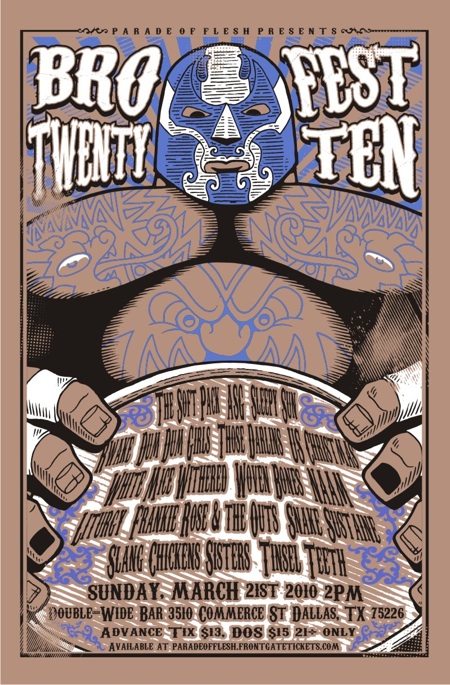 Sunday, March 21st, 2010 – 2:00PM
BRO FEST 2010 – (alphabetical order):
ASG (Wilmington NC – Volcom) "Palm Springs" mp3
DUM DUM GIRLS (Los Angeles – Sub Pop/Captured Tracks) "Hey Sis" mp3
FRANKIE ROSE & The OUTS (Brooklyn – Slumberland) "Thee Only One" mp3
LITURGY (Brooklyn – 20 Buck Spin/Infinite Limbs) "Beyond the Magic Forest" mp3
NAAM (Brooklyn – Tee Pee) "Black Ice" mp3
RWAKE (Little Rock – Relapse) "Unleashing Cosmic Destruction" mp3
SISTERS (Brooklyn – Death By Audio) "Accolades" mp3
SLANG CHICKENS (Los Angeles – Psychedelic Judaism) "Tropics" mp3
SLEEPY SUN (San Francisco – ATP Recordings) "New Age" mp3
SNAKE SUSTAINE (feat. 3 mem. of A Life Once Lost)
The SOFT PACK (San Diego/Los Angeles – Kemado) "Answer to Yourself" mp3
THOSE DARLINS (Nashville – Oh Wow Dang) "Hung Up On Me" mp3
TINSEL TEETH (Providence – Nail in the Coffin/Load) "Captain Antagonist" mp3
U.S. CHRISTMAS (North Carolina – Neurot) "The Scalphunters" mp3
WHITE MICE (Providence – 20 Buck Spin/Load) "Placenta The Crotchtower" mp3
WITHERED (Atlanta- Prosthetic) "Drawn Black Drapes" mp3
WOVEN BONES (Austin – HoZac/Sweet Rot/Needless "Janie" mp3
@ Doublewide
3510 Commerce St
Dallas
on sale here
$13 adv, $15 dos, 21+
FREE POSTER FOR FIRST 25 persons at the door!!
TIME
OUTSIDE
10PM The Soft Pack
9PM Sleepy sun
8PM Those Darlins
7PM Slang Chickens
6PM Dum Dum Girls
5PM Frankie Rose & the Outs
4PM Woven Bones
3PM Sisters
TIME
INSIDE
11:30PM ASG
10:30PM Rwake
9:30PM Snake Sustaine
8:30PM US Xmas
7:30PM Withered
6:30PM White Mice
5:30PM NA'AM
4:30PM Liturgy
3:30pm Tinsel Teeth
BRO FEST 2010 will be a one-day festival featuring 17 distinct newcomers and established touring acts from a variety of genres. "Bro Fest" is an alternate name to follow up last year's inaugural South by South Flesh. SXSFlesh 2009 featured Young Widows, My Disco, Thee Oh Sees, Women, Abe Vigoda, Pterodactyl, Ty Segall, The Coathangers, Vampire Hands, Sleepy Sun, The Fresh & Onlys, Howl and Juarez. Wavves and Trash Talk were unable to play due to excessive partying in Austin and horrendous traffic on I-35 North.
Consider the traffic if you are coming from Austin. A normal drive from Austin to Dallas via I-35 North is 3 hrs. On this particular date, the exodus of people will cause traffic to be around a 5+ hour drive if you leave after 1PM from Austin. There are alternate routes that take just as long, but there won't be any stop-and-go traffic (tends to be a more relaxing drive).