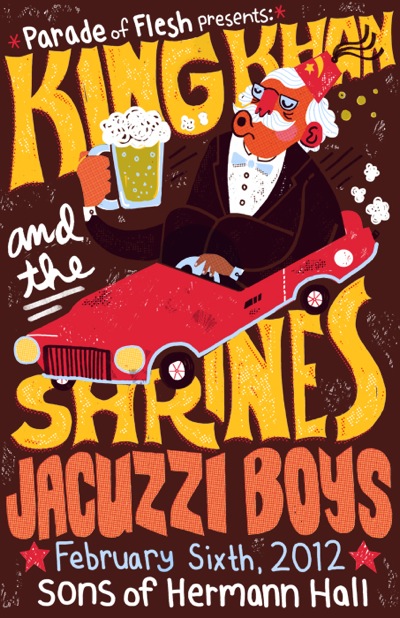 KING KHAN & The SHRINES will be at SONS OF HERMANN HALL Monday Night with Miami, FLAs JACUZZI BOYS!! They sold out Mohawk this past Saturday in Austin!!
Parade of Flesh presents . . .
Monday, February 6th, 2012 – 8pm
10:30 – KING KHAN & The SHRINES (vice)
9:30 – JACUZZI BOYS (hardly art)
8:40 – The 1969s
@ Sons of Hermann Hall
3414 Elm St.
Dallas, TX
All Ages, $16 frontgate tickets.
Facebook event.
Although, technically, NOT King Khan & The Shrines, you can currently download (for FREE) the new King Khan Experience from Scion/Vice.
I heard they'll be eating at the Original Sonny Bryan's on Inwood sometime this afternoon!
ALSO!! look for 35 Denton street team tonight, we;ll be giving away some passes for the fest.