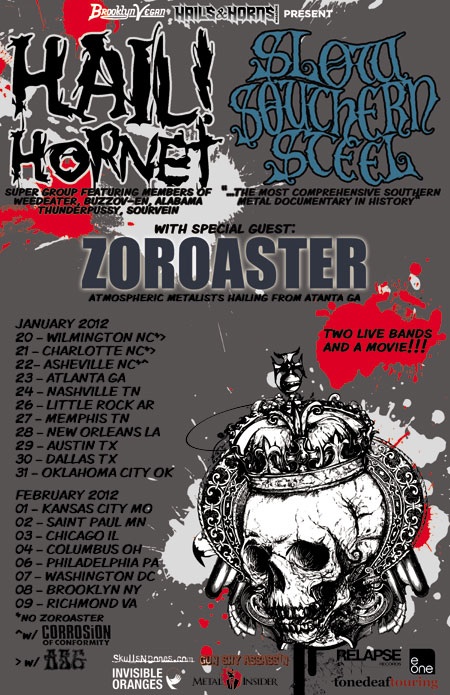 Atlanta doom metal trio ZOROASTER (E1 records) are touring with sludge/doommetal supergroup HAIL!HORNET (relapse) and bringing along with them the acclaimed documentary SLOW SOUTHERN STEEL. SSS was directed by CT of Rwake. If you grew up or live in the South and listen to metal, then you NEED to see this film.
Parade of Flesh presents . . .
Monday, January 30th, 2012 – 7pm
11pm – HAIL!HORNET (relapse) – members of Buzzov*en, Weedeater, Alabama Thunderpussy and Sourvein.
10pm – ZOROASTER (e1)
8pm to 9:30pm – SLOW SOUTHERN STEEL (film screening)
@ La Grange
2704 Elm Street
Dallas
All Ages
$9 advance tickets / $12 day of show
on sale through Frontgate.
Note: "Hail!Hornet's members include "Dixie" Dave Collins (bass, also from Buzzov•en, Weedeater), Erik Larson (drums, also from Parasytic, The Might Could, Alabama Thunderpussy), Vince Burke (guitars, also from Beaten Back to Pure, Lunch, The Misanthrope Project), and T-roy (vocals, also from Sourvein, Buzzov•en)." – relapse bio.