Established noise/no-wave act, AIDS WOLF, will return to town, but this time to Denton at Rubber Gloves on Friday October 28th, 2011 along with HENRY And HAZEL SLAUGHTER (american tapes). Henry and Hazel Slaughter features John from WOLF EYES. This will be my fourth time to bring Aids Wolf through the metroplex, let's make it great!
Demo MP3 from Henry And Hazel Slaughter
Parade of flesh presents . . .
Friday, October 28th, 2011 – 9pm
AIDS WOLF (Montreal)
HENRY And HAZEL SLAUGHTER (John of Wolf Eyes)
Geistheistler
Treasure Hunt
@ Rubber Gloves
411 E. Sycamore
Denton, TX
All Ages
21+, $8
under, $10
On sale here
facebook page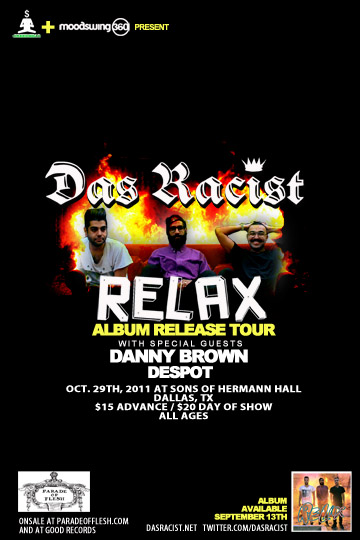 yeah buddy… while I thought WHY? and OFF! would be two of my biggest shows this Fall, I can now add rap act DAS RACIST to that list and on a Saturday night! Download and listen to Das Racist at their site.
Parade of flesh presents . . .
Saturday, October 29th, 2011 – 8:00pm
DAS RACIST Relax Tour with special guests:
DANNY BROWN (fool's gold)
DESPOT (definitive jux)
FAT TONY (for select TX dates only)
@ Sons of Hermann Hall
3414 Elm St.
Dallas, TX
ALL AGES
$15 advance / $20 day of show
On sale now through frontgate tickets.
Facebook page