Nick Oliveri, infamous bassist and founding member of Queens of the Stone Age who parted ways with them at their peak in 2004. Gaining notoriety after the demise of epic stoner-rock band, Kyuss, Nick Oliveri has been a long-standing rotating member of the vile Dwarves (as Rex Everything) and continues full time with his rock trio Mondo Generator. Nick Oliveri will play an extended acoustic set of songs from his extensive catalog. Expect an hour to an hour and a half of songs. Side note: He worked at Stubb's in Austin back in the day.
Nick Oliveri is touring in honor of his solo album, Death Acoustic, released by Australian label Impedance Records.
On sale now at paradeofflesh.frontgatetickets.com
tickets are $8.
@ Double-Wide on February 21st at 8pm.
with special guests tba.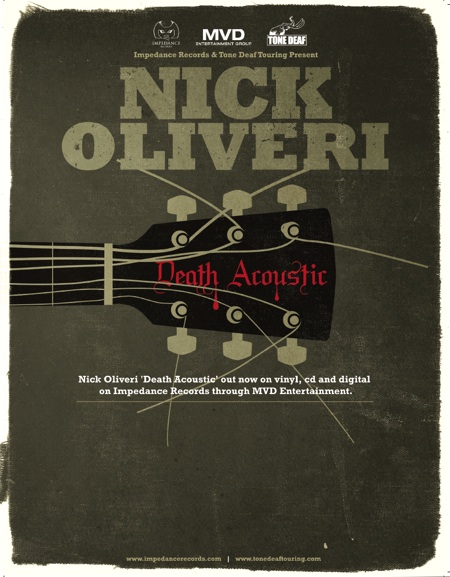 the rest of the tour dates:
Fri January 22nd – Middle East, Cambridge MA
Sat January 23rd – Pianos, New York NY
Sun January 24th – Khyber, Philadelphia PA
Mon January 25th – Velvet Lounge, Washington DC
Tue January 26th – Volume 11 Tavern, Raleigh NC
Wed January 27th – Casbah @ Tremont Music Hall, Charlotte NC
Thu January 28th – Lenny's, Atlanta GA
Fri January 29th – The End, Nashville TN
Sat January 30th – Hi Tone, Memphis TN
Mon February 1st – Double Door, Chicago IL
Tue February 2nd – Frequency, Madison WI
Wed February 3rd – Southgate House, Newport KY
Thu February 4th – Grog Shop, Cleveland OH
Fri February 5th – Small's, Hamtramck MI
Sat February 6th – Garfield Artworks, Pittsburgh PA
Sun February 7th – Bug Jar, Rochester NY
???
Mon February 15th – Mississippi Studios, Portland OR
Tue February 16th – Funhouse, Seattle WA
Thu February 18th – Club Vegas, Salt Lake City UT
Fri February 19th – 3 Kings Tavern, Denver CO
Sat February 20th – Czar Bar, Kansas City MO
Sun February 21st – Double Wide, Dallas, TX
???
Thu February 25th – Launch Pad, Albuquerque NM
???
Update: Tour Dates last revised on 12/22/09