by Nick Rallo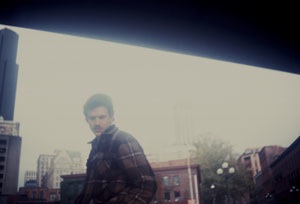 Ok, this took a few steps on Google to find. A few months ago, I saw J. Tillman at Hailey's, where a small, thin, mustachioed man opened for him. He played some rad, unappreciated folk music for about 45 minutes and left the stage. I had one of those awkward moments when he walked past me and I said, "Hey nice set"–but he didn't hear me and kept on walking. That combined with a really strong beer and no cash, I forgot to buy to his CD and get his real name. It was only five bucks.
Anyway, he ("Zach" is all they say on Barsuk's site) is PEARLY GATE MUSIC on Barsuk records, home of Ra Ra Riot and The Starlight Mints. It's great. "Daddy Wrote You Letters" is Johnny-Cash-cool (because he calls jail "clink"), Gibson guitar, old school folk. It has a melody that immediately makes you want to record a shoddy youtube cover with guitar tabs flashing on the screen:
"I read your diary in one sitting / I got on a roll and I thought that maybe this would get interesting / so I sat down and read the whole damn thing"
The limited EP "Big Break" on vinyl available through Barsuk: here.
Download mp3 of "Big Escape"