An almost weekly assortment of musical oddities purchased by or given to POF.
AN ALBATROSS – London Live 12″ (self) – Test pressing of their next release. Recorded November 4th, 2008 at the Astoria 2 in London. Purple marble vinyl, plastisol screenprinted cover.. Hand numbered out of 50.
BIG FICTION – Demo Cassette (kills you)
The CHINESE STARS – Heaven on Speed Dial 12″ (anchor brain)
COLD CAVE – Cremations (hospital productions) Released on Purient's label prior to Love Comes Close (matador). Twenty-song compilation of three Cold Cave releases: Painted Nails EP, Electronic Dreams Cassette and Coma Potion LP.
DARK MEAT – Truce Opium 2 x 12″ (emergency umbrella) – Transparent green vinyl with d/l card.
DIGITAL LEATHER – Power Surge 7″ (fdh)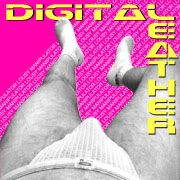 DIGITAL LEATHER – Lousy Manipulator 7″ (neat neat neat) – hand numbered out of 500, silkscreened.
DIGITAL LEATHER – The Assault 7″ (red lounge) – Dutch release
EYES, WINGS And MANY OTHER THINGS – Nite Delights (self) – Playing at Handsome Kitten in December.
NIRVANA – Live at Reading DVD/CD (dgc) – Filmed on August 30th, 1992. Thanks for taking 17 years to release this.
SLAYER – World Painted Blood – Produced by Greg Fidelman and Rick Rubin.  Twelve new tracks recorded earlier this year. Promo came in a biohazard plastic bag. This album pretty much "slays", no pun intended.
THEE OH SEES – Dog Poison 12″ (captured tracks) – Ten more tracks from the endless catalog of John Dwyer and Co.