New stuff since the last time:
AIDS WOLF – March To The Sea (skin graft) – Iconic noise-rock (now trio).
AIDS WOLF – Very Friendly 12" (lovepump united) – Five remixes of "Very Friendly", originally by Throbbing Gristle.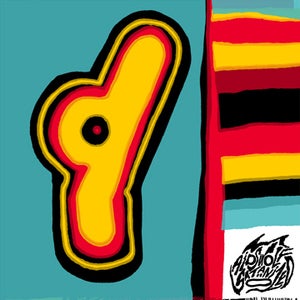 AIDS WOLF/SATANIZED – Split 7" (suicide tax/badmaster) – "2 unreleased AIDS Wolf tracks & 1 long Satanized cut, housed in a 5 color silk screened jacket, inside and out, by Seripop" Limited to 500 copies.
CHRISTIAN MISTRESS – Agony & Opium (20 buck spin) – First full effort by Olympia, WA female fronted vintage metal act. Touring with THRONES this fall.
DUCKTAILS – Mirror Image 7" (shdwply)
DUCKTAILS – Hamilton Road 7" (old English spelling bee)
FUCKED UP – Year of The Ox 12″ (merge) – "Year of the Ox is the band's fourth record in the continuing 12 year cycle and adds to its evolving retinue of guest musicians. The patient and building Year of the Ox features Nika Rosa Danilova of Zola Jesus for a guest vocal passage and Toronto's string quartet, New Strings Old Puppets. The b-side "Solomon's Song", a gothic vampire love tribute to Twilight, features a 5 minute saxophone solo from Aerin Fogel of the Bitters and heavy synthing from Trust."
ORANGE COAX – S/T 10" (self/weshotjr) – First awesome release from Dentron noise rock trio.
PACK OF WOLVES – Penance Of Pestilence 10" (arclight) – Third release by Austin's Pack of Wolves. Touring this October, playing Dallas October 14th. Translucent red vinyl w/ digital download card.
SLEEPY SUN – Marina 10" (atp) – Emerald green vinyl.
TORCHE – Songs For Singles LP (hydrahead) – White mailer sleeve w/ black, white, purple, red or teal vinyl.
The WALKMEN – Weight On My Shoulders 7" (fat possum)