An almost weekly assortment of musical oddities purchased by or given to POF.
Good Records had a sale today, so I could resist supporting my local record store with these fine purchases: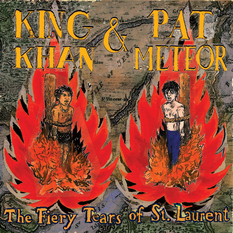 KING KHAN & PAT METEOR – The Fiery Tears of St. Laurent 7" (sub pop) – Story and lyrics on inner sleeve. King Khan touring with the Shrines in April.
The MORNING BENDERS – Promises 7" (true panther sounds)
MUNCH MUNCH – Wedding 7" (tom lab) – Former spastic-pop Bristol, UK duo is now a quartet and playing my Ballistic Missile & Parade of Flesh party in Austin at Club Primo's on March 20th.
MARK SULTAN – I am the End 7" (in the red)
TITUS ANDRONICUS – Four Score and Seven 7" (xl)
WOODSMAN – Collages 12" (mexican summer) – Instrumental post-rock from Denver should be touring in late May or June. Hand numbered out of 500.