An almost weekly assortment of musical oddities purchased by or given to POF.
DRUG RUG – Paint The Fence Invisible (black and greene)
GOWNS – Final Release (self) – One of the earliest shows I booked was with the Gowns. Too bad they broke up. READ and D/L HERE.
HEAVY CREAM – S/T 7" (infinity cat) – First release for Nashville based Heavy Cream, who should be on tour this May. Five Song ep on violet-marbled vinyl recorded by Jake Orrall of Jeff the Brotherhood.
JAVELIN – No Mas (luaka bop) – No Mas is the full length follow-up to Javelin's S/T (thrill jockey). A diverse array of delightful bouncy loops & samples laid-out among 15 tracks ranging from short electro odes to three minute ancestral songs that could definitely be remixed. Touring with Yeasayer soon.
JEFF – Castle Storm (infinity cat) – pre-brotherhood
JEFF – Cancer Killer B/w Like a Fish In Water 7" & DVD (infinity cat) Vinyl comes with a 7 minute dvd of homemade videos for Like a Fish in water and Cancer Killer.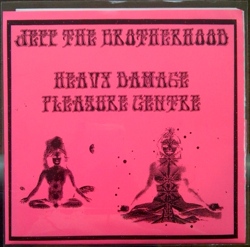 JEFF The BROTHERHOOD – Heavy Damage 7" (crystal swan/infinity cat) – Single from the album Heavy Days; b-side is a new track called "Pleasure Centre". Hand-numbered out of 300 on hot pink sleeve. Mp3 of "Heavy Damage".
SWEET APPLE – Love & Desperation (tee pee) – If super-groups existed today, then Sweet Apple would fill the role. Features J. Mascis of Dinosaur Jr. & Witch, Dave Sweetapple on bass from Witch and John Petkovic and Tim Parnin from Cobra Verde. Mascis and Petkovic sing together and individually throughout the familiar, yet gloomy stoner-blues album. Comes out April 20th.
V/A- OUR BOY ROY – LP (telephone explosion) – I found this LP digitally online before ordering it. Roy Orbison songs covered by Demon's Claws, Jacuzzi Boys, Ty Segall and many more.