New stuff since the last time . . .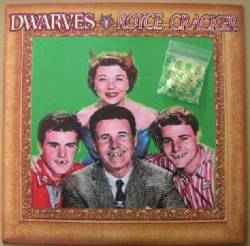 DWARVES/ROYCE CRACKER – Split 7″ (zodiac) – I know the band wants to be shocking but at this point it becomes laughable and dismissive to do a bunch of songs about methamphetamines. Both bands feature Rex Everything aka Nick Oliveri, who has been in the news lately. Comes on orange vinyl, full color insert showcasing a meth lab and a fake bag of meth. Listen here via google search. Do you remember the Plastikman album that had a sheet of acid as the cd insert?
FLAMING LIPS/LIGHTNING BOLT – Split 12″ (lovely sorts of death/wb) – Part of the 12 releases (not all vinyl) that Flaming Lips are working on. Poured by New Fumes aka Daniel Huffman at A&R in Dallas. Read more about it at Future Heart. Hold tight for some more off the wall, non-vinyl, releases by Flaming Lips.
FOLLOWED BY STATIC/JOHN WESLEY COLEMAN III – Split 12″ (way out there) – Italian label hits up two Austin bands for a split release. FBS with their Bacon Bear EP and JWC with Personality Pancake EP. Four Songs each.
KIWI SISTERS/PRECEDENCE – Split 7″ (untitled) – Local label releases a split with a local and another act I'm unfamiliar with. Indie/electro duo, Kiwi Sisters with their first material available in a physical form. Yes the label is really called "Untitled Records Limited". Clear/smoke vinyl. FYI, there is also a "untitled records" out there too. confusing.
SEDAN/THRONES – Split 12″ (joe preston solid gold recordings) – Doom metal oriented split. Sedan has members of Two Ton Boas.
The WAR On DRUGS – Slave Ambient 2 x12″ (secretly canadian) – Limited/color vinyl, full color arwork.Touring with Purling Hiss and Carter Tanton in October and making a stop in Dallas on October 17th at Bryan St. Tavern. Download "Baby Missiles" and "Come to the City" mp3s via Secretly Canadian.