Cloud Nothings / Sealion/ Soviet
November 3, 2011 At Canton Co-Op: Dallas, TX
By Squidney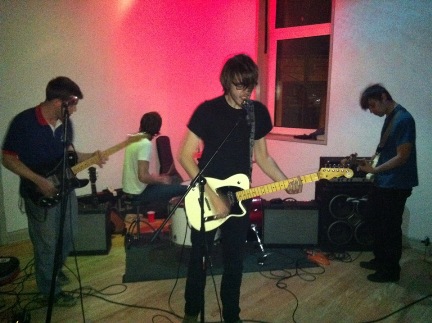 Cleveland, OH's Cloud Nothings quickly rose to success after their first full-length LP last year, touring with Toro Y Moi and playing major SXSW showcases, making them one of the most hyped acts around. When they played with opening acts Soviet and Sealion, they had a lot to live up to in the small (but wonderful) space at Canton Co-Op on Thursday night.
Dallas-based Soviet kicked off the night with a high-energy set, which their fans have come to expect. Their garage-rock style and enthusiastic front-man make the band stand out in the local scene. It is evident that they love playing music together, and the audience always seems to benefit from their obvious happiness.
Up next was Sealion, another local favorite that had the whole crowd dancing no sooner than they had begun to play. Their infectious brand of pop seemed to break the audience of the old 'arms-crossed, look bored' stance seen so often at shows. The whole crowd was obviously having a great time.
Cloud Nothings impressed the crowd with their loud, fast noise-pop sound. The guitars took short dives into distortion, while the strong rhythm section supports it with a raw, old-school beat. Cloud Nothings play at Fun Fun Fun Fest in Austin on Friday at 2:20pm, amongst a schedule of major-league acts. Do yourself a favor and see this band live; it's way more exciting than the records.
The three bands made for a fantastic lineup, filling the beautiful Canton Co-Op with music lovers from all over the Metroplex. The bands' styles easily complimented one another, ensuring every band would make some new fans. Maybe the best thing about the show was seeing the nighttime Dallas skyline peek through the windows while so many people come out to support a touring band in an independent venue and local bands.