Here's this week's run down…
secret show at Canton Coop on Friday, March 9th.
then on Saturday from Boston we have JUNIUS coming and their bringing O'Brother…
and finally on Sunday, we have our showcase at Rubber Gloves for 35 Denton w/ Peaking Lights & Purling Hiss, Midnight Society & Treasure Hunt.
all info is below:
GHOST's replacement on the 2011 Enslaved tour was JUNIUS… yeah, that's how good they are. Boston's JUNIUS, who play dark atmospheric rock, will be touring with O'BROTHER who are fairly energetic and lively, which  balances out the bill.
Parade of Flesh presents . . .
Saturday, March 10th, 2012 – 9pm
JUNIUS (prosthetic)
O'BROTHER (Triple Crown/Favorite Gentlemen)
My Education (austin)
@ Bryan Street Tavern
4315 Bryan St
Dallas, TX
18+ show
$8 advance / $10 day of show
Facebook event
On Sale now via frontgate tickets
Facebook event.
FYI: Alan & I (US Two Records) also released a split 10″ of Junius & Juarez a few years ago.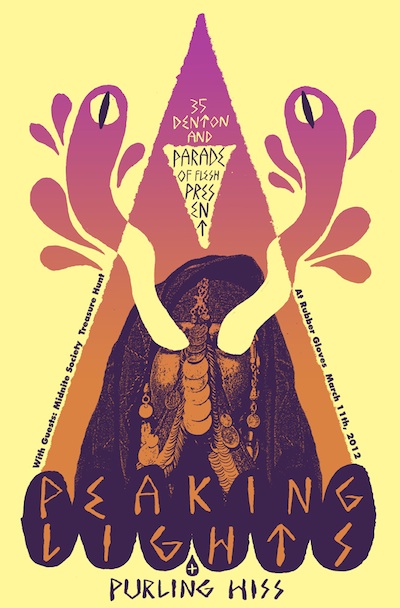 Here's my pretty rad showcase at 35 Denton!!! Featuring Madison, WI psychedelic duo PEAKING LIGHTS,who blew people away in 2011 with their synthesizer and guitar LP 936 (not not fun). Philadelphia psychedelic-noise rock trio PURLING HISS have come through town in the past with Kurt Vile and in October with The War on Drugs. Midnite Society from Denton are on the bill too!! along with solo electronic artist Treasure Hunt who is usually accompanied with really offensive and entertaining visuals.  Artwork designed and printed by illustrator James Heimer. Free poster if theyre any left.. first come first serve.
35 Denton & Parade of Flesh present . . .
Sunday, March 11th, 2012 – late
PEAKING LIGHTS (madison, wi)
PURLING HISS (philly)
Midnite Society
Treasure Hunt
@ Rubber Gloves
411 East Sycamore St
Denton, TX
Tickets on sale at 35 Denton.com Check out the insane lineup!
DOS ticket is $20… I know!! so you need to just get a day pass or wristband before they sellout.