CRAZY WEEK>>> and Next week the same..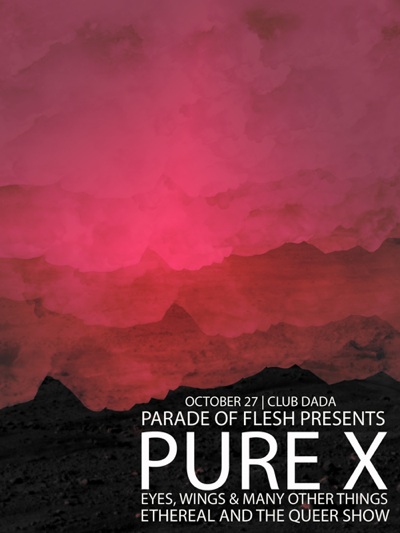 The no longer furtive Texas band, PURE X, formerly known as Pure Ecstasy, will be touring and making a return to Dallas on October 27th at Club Dada. The first time they came through Dallas was at Granada Theater for very well promoted Gorilla vs. Bear's "festival" in late July. I hope booking this show will finally make RYAN happy!!
Parade of flesh presents . . .
Thursday, October 27th, 2011 Doors, 8pm
11pm – PURE X
10pm – Eyes Wings & Many Other Things
9pm – The Ethereal and the Queer Show
@ Club Dada
2720 Elm St.
Dallas, TX
$10 advance/day of show
on sale now here.
Facebook event page
Established noise/no-wave act, AIDS WOLF, will return to town, but this time to Denton at Rubber Gloves on Friday October 28th, 2011 along with HENRY And HAZEL SLAUGHTER (american tapes). Henry and Hazel Slaughter features John from WOLF EYES. This will be my fourth time to bring Aids Wolf through the metroplex, let's make it great!
Demo MP3 from Henry And Hazel Slaughter
Parade of flesh presents . . .
Friday, October 28th, 2011 – Doors 9pm
12:30am – AIDS WOLF (Montreal)
11:40pm HENRY And HAZEL SLAUGHTER (John of Wolf Eyes)
11pm – Geistheistler
10pm – Treasure Hunt
@ Rubber Gloves
411 E. Sycamore
Denton, TX
All Ages
21+, $8
under, $10
On sale here
facebook page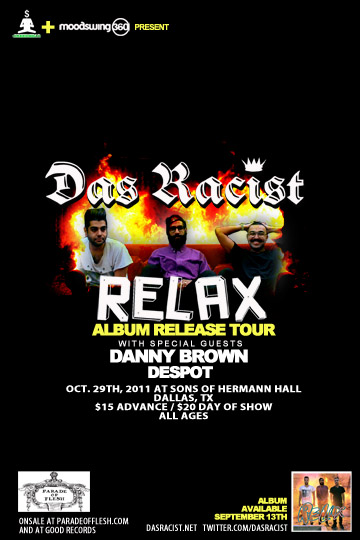 yeah buddy… while I thought WHY? and OFF! would be two of my biggest shows this Fall, I can now add rap act DAS RACIST to that list and on a Saturday night! Download and listen to Das Racist at their site.
Parade of flesh presents . . .
Saturday, October 29th, 2011 – 8:00pm
11:20pm DAS RACIST Relax Tour with special guests:
10:30pmDANNY BROWN (fool's gold)
9:40pm DESPOT (definitive jux)
9pm FAT TONY (for select TX dates only)
@ Sons of Hermann Hall
3414 Elm St.
Dallas, TX
ALL AGES
$15 advance / $20 day of show
On sale now through frontgate tickets.
Facebook page
One of my favorite current acts right now, CRYSTAL ANTLERS are coming back through (first time was with Times New Viking in June), along with the awesome Daniel Huffman as New Fumes and new band from Austin, BOYFRNDZ on Halloween! (Almost), actually this will occur the day prior, Sunday Afternoon, October 30th at Good Records. Long Beach, CA 5-piece, CRYSTAL ANTLERS have a new album out that was self released called TWO-WAY MIRROR, which has a limited 12″ available through their website right now.
By coincidence, Ikey Owens of The Mars Volta produced both new albums by Crystal Antlers and Boyfrndz.
Parade of flesh and Good Records presents . . .
A GOOD RECORDS Halloween: Sunday, October 30th – 4pm (yes, FOUR PM) Sunday Matinée
6pm – CRYSTAL ANTLERS (Long Beach, CA)
5pm – New Fumes (Oak Cliff, Good Records Recordings)
4pm – BOYFRNDZ (Austin, tx)
@ GOOD RECORDS
1808 Greenville Ave
$3 show, All Ages.
Facebook page
more info, like, candy, costumes, beer and food coming soon! Stay tuned