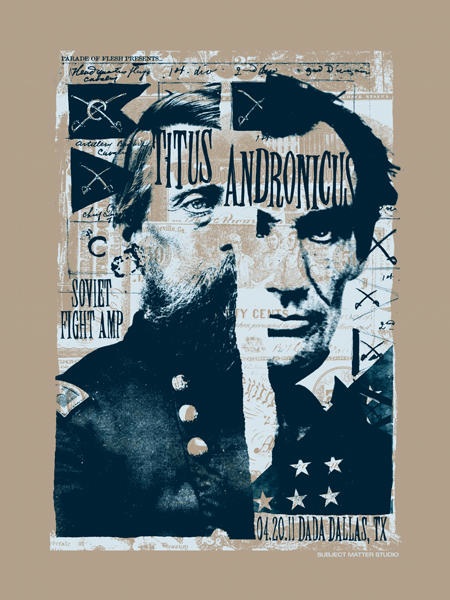 Shakespearean inspired Glen Rock, New Jersey indie rock act, TITUS ANDRONICUS will be coming back through Dallas, this time at Club Dada on Wednesday, April 20th, 2011.  I think this is my fourth time hosting them… can't recall except that they played almost an hour and a half at Sons of Hermann Hall last August. Awesome! Stream three tracks off their latest album, The Monitor (xl recordings) here.Tickets on sale now for only $10 at frontgatetickets or Good Records.
Wednesday, April 20th, 2011
TITUS ANDRONICUS
Soviet
FIGHT AMP (nj)
@ Dada
2720 Elm St.
Dallas, TX
Doors at 8PM, All Ages
Advance Tickets $10
Day of Show $13
——————
Friday, APRIL 22nd, 2011 – 7PM
@ GOOD RECORDS
THOU (new orleans)
Big Fiction
DONATIONS to bands, PLEASE, Thanks.
——————————————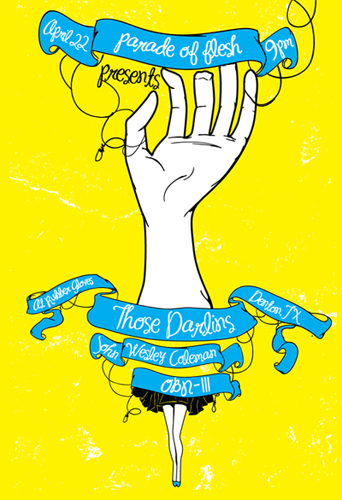 THOSE DARLINS are coming back through town to promote their newest album, Screws Get Loose (oh wow dang). Since I have hosted them multiple times in Dallas (Doublewide, City Tavern and Sons of Hermann Hall), this one is going to Denton. Therefore I managed to arrange a special gig with Texas rock'n'roll bands JOHN WESLEY COLEMAN (goner records) and OBN-III, which features Orville from Bad Sports and ex-strange boys' drummer, Matt Hammer; both Matt and Orville are JWC's backing band now.
Get the new album, Screws Get Loose by THOSE DARLINS at their website and the two new 7? inches by OBN-III from local mail-order label and shop: Play Pinball Records, who have  the S/T 7? from Tic Tac Totally and No Way to Rock 'N Roll 7? through Super Secret Records.