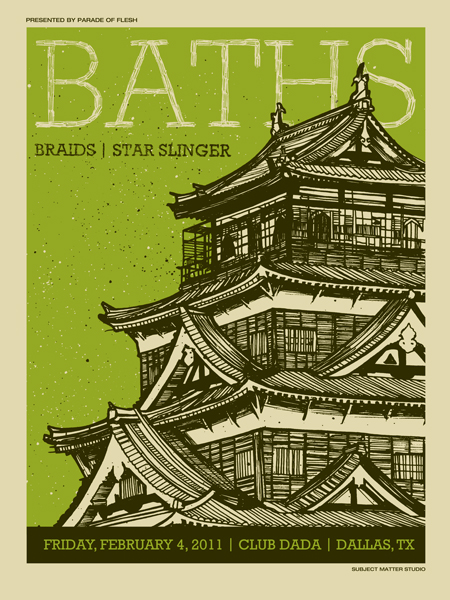 Anticon. recording artist, BATHS will be on tour with Montreal's BRAIDS. Releasing Cerulean this past July, BATHS is touted as "a hail of lush melodies, ghostly choirs, playful instrumentation and stuttering beats." The hard to describe quartet, BRAIDS, is best summed up as having "an unusually collaborative dynamic, generating all of their sweeping sounds live in a synergistic maelstrom (evoking) a feeling of something continuous and progressive, yet lush and intertwining." Braids debut, Native Speaker (kanine) is due Jan. 18th, 2011. Manchester, UK act, Star Slinger will be supporting.
Friday, February 4th, 2011
BATHS – Cali on Anticon.
BRAIDS – Montreal
STAR SLINGER – Manchester
@ CLub Dada
2720 Elm St
Dallas TX
On sale at Frontgate Tickets or in person at Good Records.
$8 advance.  $10 day of show.
—————————–
The sweet-ass independent record/management label, Sargent House, home to many great acts such as Fang Island, Red Sparrowes, Russian Circles and Tera Melos, have another awesome "must-see-live" band coming through town . . . NATIVE.
Residents of Indiana, NATIVE, reminds me of the defunct These Arms Are Snakes. Touring on their new album, Wrestling Moves, this will probably be their last 'small diy show' for a while as NATIVE have come through North Texas a few times over the past two years.
Friday, February 4th, 2011
NATIVE
Innards
Two Nights
Big Fiction
Doors: 7 Show:8
@1919 Hemphill
Fort Worth, TX
$6, all ages show
——————————————-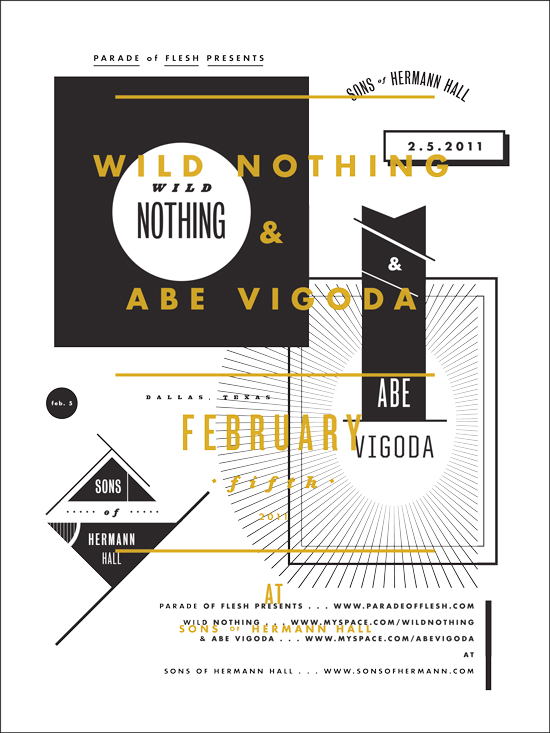 Saturday, February 5th, 2011
WILD NOTHING (captured tracks)
ABE VIGODA (post present medium)
@ Sons of Hermann Hall
3414 Elm St.
Dallas
on sale now at frontgate. $10 adv, $13 day of show.
Note: Sons is cash only bar. (and has been for 100 years!)
MP3s:
"The Witching Hour" by Wild Nothing
"November" by Abe Vigoda
artwork by Aaron Eiland