FREE POSTER tonight!!
Great words by C Yu:
For the past few months, I've been seeing all kinds of internet buzz about Dirty Beaches and with good reason. The band's sole member, Alex Zhang Hungtai, is truly a master of his craft. Drawing from his background in film, he is able to paint an entire story for you in mere minutes through his music. His songs are honest and sincere, and simple melodies coupled with steady progressions evoke the sounds of a time when recorded music was truer to its live performance and music was driven by the raw melodic lines. That's where he finds his success, in simplicity. His minimalist style is precise, giving you enough music to clearly understand what he has created, but leaving you wanting just a little bit more. His music makes you want to really stop to appreciate it, absolutely perfect for a Tuesday night. I can't wait to experience it live.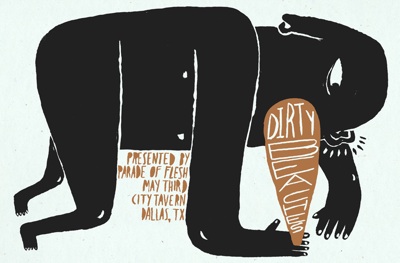 Tuesday May 3rd, 2011
DIRTY BEACHES
Love Inks
Sir Name
City Tavern
1402 Main St
$7 for adults
$10 for under (18+)
on sale here