Friday, October 30th, 2009 – 8:00 PM
DIGITAL LEATHER – Omaha garage pop on Fat Possum
THOMAS FUNCTION – Huntsville garage pop on Fat Possum
YUSSUF JERUSALEM – Black garage from France
Leg Sweeper – Dallas/Austin
@  Lounge on Elm St
2810 Elm Street
Dallas
All Ages – $8  (not sure if the show is byob)
($10 for minors IF, the lounge has their liquor license back.)
A pre-Halloween bash with Omaha's DIGITAL LEATHER, Huntsville, Alabama's THOMAS FUNCTION and YUSSUF JERUSALEM, from France. Digital Leather have releases on Tic Tac Totally, Goner Records and their newest album, Warm Brother, will come out this Fall via Fat Possum. Also on Fat Possum is Thomas Function, who plays soulful rock reminiscent of indie British acts Supergrass and Hefner. Formerly on Alive Records, their newest album, In the Valley of the Sickness comes out October 13th. Yussuf Jerusalem is a unique French act that has the ability to shift between somber garage ballads and vicious black metal jams; currently on Florida's Dying.  All three acts are scheduled to play VICE Scion Garage Festival in Portland later this year and Thomas Function and Yussuf Jerusalem are headed to Goner Fest 6 in September.
Here are two previously posted mp3s by YUSSUF JERUSALEM "With You in Mind" and "We Ain't Coming Back", both from A Heart Full of Sorrow. Thomas Function's "Belly of the Beast" via Fat Possum.
——————————-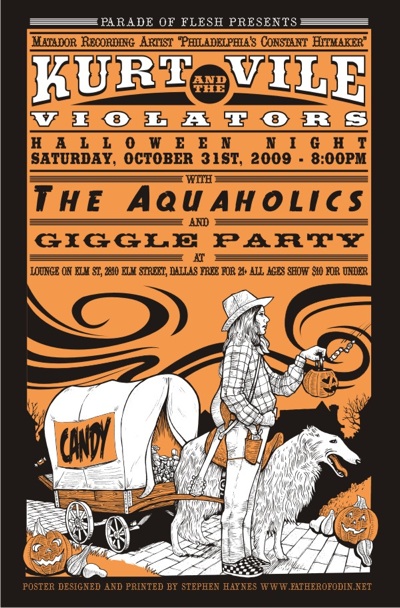 Saturday, HALLOWEEN October 31st, 2009 – 8:00PM
KURT VILE & The VIOLATORS – Matador Recording Artist "Philadelphia's Constant Hitmaker"
The Aquaholics
Giggle Party
@ Lounge on Elm St
2810 Elm Street
Dallas
FREEEEE for 21+
All Ages show
$10 for under
(im not sure if the show is byob or not yet)
Kurt Vile's backing band features guys from the Philadelphia band, War on Drugs. Kurt Vile is touring to promote his newest album Childish Prodigy (matador). Mp3 of "Hunchback" via matador.
Video for "Freak Train":