US TWO RECORDS '02' BATWINGS / WHEN DINOSAURS RULED THE EARTH – Dr. Ohm vs. The Exploding Amp / Houston Voice
US TWO RECORDS second split vinyl release "02" brings together San Diego's BATWINGS and Austin's WHEN DINOSAURS RULED THE EARTH. Run in a limited batch of 500 copies (300 transparent red with black bleed & silver splatter and 200 black with silver splatter), this technique was a first for Pirate's Press and also their "Record of the Week" ending on July 17th, 2009.
Batwings showcases the track Dr. Ohm vs. The Exploding Amp which highlights their spastic hardcore sound influenced from early 2000 SoCal underground acts such as The Locust, Holy Molar and Le Shok. Dr. Ohm vs. The Exploding Amp was recorded by Batwings: Robert Christopher Lopez – Bass/Keys/Vox, Bryan Edward Oczkowski – Guitar/Vox, Larry Raymond Stage – Guitar and Juan Sebastian Ulloa –Drums. As a favor to "US", the track was mastered by Dana Fehr.
Austin mini-grunge orchestra, When Dinosaurs Ruled the Earth, recorded their track Houston Voice as a seven piece, but are currently touring as a 4, sometimes 5 piece. They have been featured on a Cardboard Records compilation; an experimental noise and lo-fi electronic label run by Dan Friel and B.J. Warshaw of Parts & Labor. "Houston Voice" was engineered by Chico Jones at OHM Recording Facility in Austin, TX and mixed by Chico and dinos. The band: cory, marc, nate, george, brandon, jeff, and jesse.
BATWINGS and WHEN DINOSAURS RULED THE EARTH will be performing together at THE CASBAH in San Diego on August 17th, 2009.
Records will be available this Friday from When Dinosaurs Ruled the Earth, who are playing Parade of Flesh's birthday on July 24th with Pterodactyl and Church of the Snake.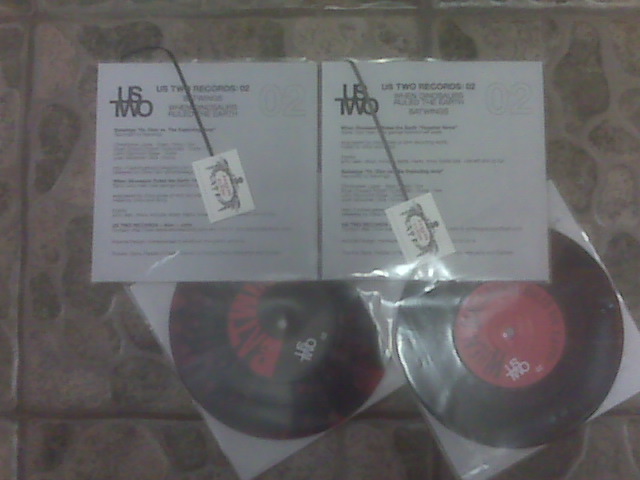 Edicion Especial: Parade of Flesh took the first 100 copies of vinyl (50 red and 50 black) and added a gun metal metallic paper sleeve with velum liner notes attached by a satin ribbon on a hand-numbered tag. All hand assembled and designed by girl wonder: Margarita Buenaventura.
Contact/links
Alan Cook – Alan@ustworecords.com and John Is –  johnis@paradeofflesh.com
Batwings and When Dinosaurs Ruled the Earth